The valiant little tailor
Alexandre Dumas - Grimm Brothers
Temps de lecture :
27
minutes
On a beautiful summer morning, a little tailor from Biberich was sitting on his workbench in front of his window. He was in a good mood, and while drawing his needle, he sang with all his strength an old ballad about a poor shepherd who had married the daughter of an emperor.
As he was in the last verse of his song, a peasant woman came by shouting:
– Good marmalade, for sale! Good marmalade!
This sounded good to the little tailor. He opened a window, put his head through the opening, and shouted in turn:
– This way, good woman, this way! and we'll get rid of your goods.
The woman climbed the three floors of the tailor's shop four by four, believing that she had indeed found an outlet for her business. This belief was confirmed when he made her open all her jars one after the other: plum marmalade, apricot marmalade, apple marmalade, pear marmalade, etc., etc.
The little tailor, stopping at the apricot marmalade, went and cut a wide, long slice of bread, and said to the peasant woman:
– Spread a good layer of apricot marmalade on it, and, when there was an ounce of it, bah! the day was good, it would do nothing.
The woman, who had taken the tailor's words seriously, and who thought that she was rid of at least half of her merchandise, dug into the apricot marmalade jar with her wooden spoon, and, as the tailor had asked, covered the bread from end to end.
– There!" she said, "that's enough for a kreutzer. The little tailor haggled for a moment, but finally decided to pay for his kreutzer. The peasant woman went away grumbling, but the tailor didn't pay any attention.
– It will be a little pleasant to eat, he said; but, before biting into it, I must finish my jacket.
And, in virtue of this good resolution, he put his toast near him, and continued to sew; but, as the toast was pulling his eye, he made bigger and bigger stitches. Meanwhile, the smell of the marmalade spread through the room and attracted the flies, which flew by the hundreds; so that, at the risk of what could happen to them, the greedy ones fell en masse on the toast.
– Well, who invited you, you fools? said the little tailor.
And he tried to chase them away with a backhand. But the flies, frightened for a moment, left the toast only to return more numerous.
The little tailor feared that if he finished his jacket, no matter how big the stitches were, and if he let the flies have their way, no matter how little marmalade each one ate, he would find only the bread when the jacket was finished.
– Wait, wait," he said, pulling out his handkerchief, "I'll give you some marmalade!
And he struck the looters without mercy.
When he had stopped striking, and all the flies that had survived the battle had risen to the ceiling, he counted the dead: there were no less than seven lying on their sides, three or four of them still wriggling.
– Decidedly, you are a proud fellow! said the small tailor in ecstasy in front of his own valour. By my faith! it is necessary that all the city knows what you have just made!
And at once the small tailor cut himself a belt from a piece of black cloth of which he was to make habit, jacket and breeches to the priest, and, on this belt, he pricked in big characters, with red thread: Seven at once!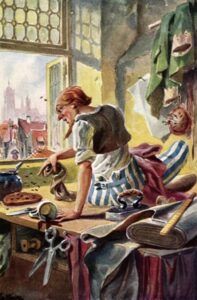 The belt made, he buckled it round his waist, and found that he thus looked so valiant and boisterous, that he cried out:
– It is not the city alone that must know what I am, but the whole world!
Then, leaving his unfinished suit and the sheet intact, except for the belt he had borrowed, he ate the toast that had been the cause of all this excitement in the first place, and visited the house to see if he could take anything with him. He found nothing but an old round cheese, (twice as big as an egg; so old, that it looked like a stone; he nevertheless put it in his pocket.
...
Vous avez repéré une erreur ? N'hésitez pas à nous la signaler en nous écrivant sur cette page
VOUS AVEZ AIMÉ CE CONTE? PARTAGEZ-LE!
Vous avez aimé ce conte? Ajoutez-le à vos favoris et donnez-lui un like en cliquant le coeur:
Tout savoir sur les Contes de Fées
Avec les clés de lecture
Lisez notre page expliquant l'utilité des Contes de Fées, au niveau intellectuel, émotionnels et des valeurs morales.
Comprendre ce que représente chaque archétype de personnage, bon ou mauvais. L'importance des objets, de la magie, des animaux, etc.
 Ajoutez votre version, votre audio ou vos images
Ou publiez votre propre conte
Envoyez-nous votre conte original, votre version ou complétez un conte avec vos illustrations ou un enregistrement audio.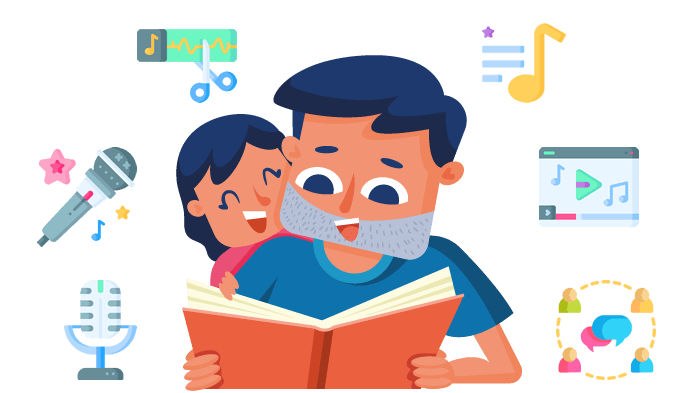 Abonnez-vous à partir de 0,99€ (Promo de la rentrée)
Offre de lancement: Gratuit pour les professeurs
Lisez et écoutez tous les contes premium
Ajouter des bruitages et musiques de fonds
Garder vos contes favoris et gérer votre liste
Enregistrer vos histoires via l'enregistreur vocal
Accédez aux excercices de français en grammaire, compréhension, rédaction et débats
Télécharger les contes en PDF

Traduire les mots en anglais et améliorer votre français
D'AUTRES CONTES QUI POURRAIENT VOUS PLAIRE:
Instructions
1) Cliquez le bouton ci dessus pour lancer l'enregistrement (Acceptez si le navigateur vous demande ou cliquez ou dans la barre de votre naviguateur pour réactiver le micro).

2) Réduisez l'enregistreur pour lire le conte en recliquant sur l'icône en bas de l'écran.

3) Éditez et sauvegardez en recliquant sur en bas.
Enregistrez-vous!
Enregistrez vos lectures de contes pour les réécouter plus tard, consulter votre liste de contes et les partager à vos proches.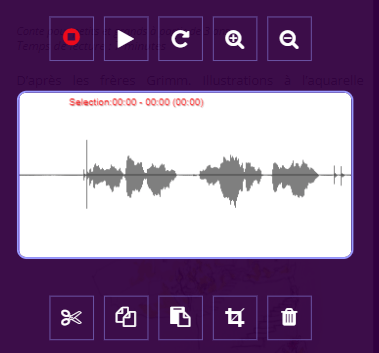 Cliquez pour activer l'enregistreur audio.
IMPORTANT: Vous devrez accepter l'accès au microphone
Activer le dictaconte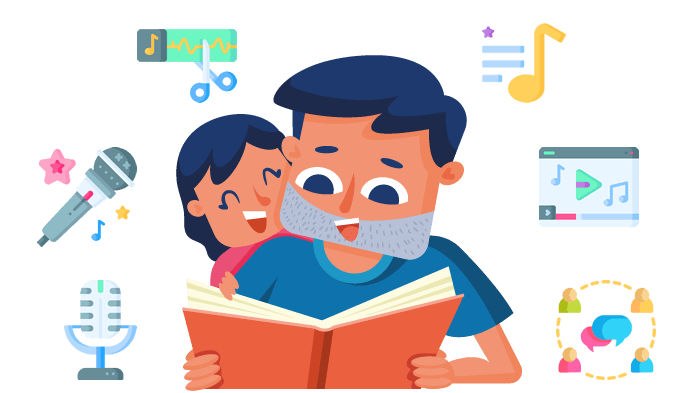 Accéder à tous les bruitages et musiques pour un récit encore plus halletant
Gardez vos contes favoris et gérer votre liste
NOUVEAU: Enregistrez vos lectures dans votre compte et réecoutez-les ou téléchargez-les en mp3
Télecharger les contes en PDF pour consulter sans être connecté

Traduisez les mots en anglais en cliquant dessus pour améliorer votre français
NOUVEAU: Fiches d'exercices de grammaire et expression pour les professeurs ou pour soi
Déjà abonné(e) ?
Connectez-vous pour activer les options